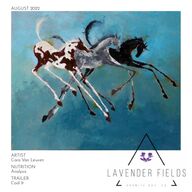 Return to flip book view
LAVENDER FIELDS AUGUST 2022
Page 1
ARTIST Cara Van LeuvenTRAILER Cool ItNUTRITIONAnalysisAUGUST 2022
Page 2
The goal of Lavender Fields is to create a farm that works for the environment and the welfare of the creatures that inhabit it. By working with the land, climate, and animals, we are able to create an atmosphere that is comfortable, thriving, and supports long term ecological balance. Located in the Sierra Nevada region of California, the area is critical to the environment and economy of the state and provides essential natural resources including fresh water, clean power, working lands, and famous wilderness. By embracing the Northern California lifestyle, and working with nature, we are able to create our own space.JENNIFER AZEVEDOAA Equine ManagementBS Organizational Behavior with MN HorticulturePermaculture Designer
Page 3
Page 4
CONTENTSARTIST: Cara Van LeuvenARENA: Fence BARN: Waterer or Bucket?TRAILER: Cool It WATER: SplashersTRAINING: Long Line
Page 5
FIRE: Mulch NUTRITION: AnalysisTEMPERATURE: Heat Index CALENDARDRINK FOOD
Page 6
INTRODUCINGMODULAR BARN SERIESBY:PRICING STARTS AT $1550
Page 7
DIY single steel modular pods to use as a single run in shed, or connect to make your own custom shedrow. Many options available.CONTACT USFOR DESIGN & PRICING DESIGN@LAVENDERFIELDS.CO
Page 8
Solectrac Electric Tractors are the clean, quiet, zero-emission alternative to diesel tractors. Our tractors can be charged by renewable energy, like wind and solar, and provide all the power of a comparable diesel tractor.
Page 9
Page 10
BUILDING: SteelDo you need a new building, barn, garage, shop? Lavender Fields is an authorized VersaTube dealer. VersaTube manufactures engineered DIY steel building kits. Contact us for ideas, a free design, and a quote for a new steel arena, barn, shelter, carport, garage...you name it, we can help. Email: design@lavenderelds.co
Page 11
Page 12
ARENA: FenceShould your arena be fenced? Here are a few reasons for both sides.For fencing:• Physical and visual barrierAgainst fencing:• Keeps people from using the arena as a turn-out• Less risk of injury from people or horses running into it• Teaches better steering• Easier to drag
Page 13
Page 14
Modernize your arena with black powder-coated steel letters. Steel is a highlyrecyclable material that gets reused over and over again. Lavender Fields' outdoor Flat Black nish is a matte black powder-coat. This UV protective nish will shield the steel in the toughest conditions including outside in wet and salty environments. Powder-coat is a thick industrial coating that is VOC free and holds up for many years. The 12x12 inch artisan steel letters are mounted on 8" stakes that will stay put. Create the modern, weather resistant, and elegant court you have always wanted. Now available exclusively at LavenderFields.co. ARENA: Letters
Page 15
Page 16
BARN: Waterer or Buckets?There are many dierent ways to water a horse. Here are a few options to consider:Automatic waterer advantages: • Don't have to llAutomatic waterer disadvantages:• Easy to break• Tricky to clean• Potential leaks• Can't measure how much your horse is drinking• If your horse needs water additives to entice drinking, the dilution will never be correct in an automatic waterer • If your horse is a hay dunker,it gets very messyWater bucket advantages: • Can measure how much the horses are drinking• Easy to clean• Easy to transport to shows• Easy to mix electrolytes or vinegar in the proper dilutions• Easy to have a separate hay dunking bucket away from the drinking bucketsWater bucket disadvantages:• More wasted water (use the water for plants or other uses)• It requires workHave a horse that destroys all water apparatuses? Find out some solutions in our article WATER: Splashers.
Page 17
Page 18
TEMPERATURE: Heat IndexWe know our horses can overheat in summer conditions, but how much is too much? As the temperature and humidity rise, we need to be vigilant about protecting our equine friends from heat stress. The Heat Index is a tool that provides good general guidelines for working your horse. It is easy to use and a veterinary accepted guideline. To use the index, add the current temperature (in Fahrenheit) and the relative humidity (in % RH) together. The total number determines the conditions. For example, if it is 77° out and the relative humidity is 65%, add them together for a total of 142. When you have your total, see the table for recommendations.If Temp °F + % Relative Humidity =120 or less Your horse's thermoregulation system is functioning very eectively. 120-150 Cooling eciency is decreasing through this range. Horses will sweat up with work, so make sure they have a chance to rest and cool o. 150-180 Temperature regulation is greatly reduced and heat stress is more likely, use caution and provide ample cool down, rest, and recovery.180+ Thermoregulation has been lost. Do not exercise. Working a horse in these conditions can be dangerous, even fatal.
Page 19
Page 20
Page 21
Page 22
A grass re travels at speeds of over 14 mph or 1232 feet per minute (ft/min). Although wood mulch is also ammable, it has many benets that may make it a viable option in the overall big picture.Flame height and temperature values for wood chips, at a 2– to 3–inch depth produce relatively low ame heights and rates of re spread. Composted wood chips demonstrate the slowest re spread rate of all wood mulch treatments at less than 0.3 ft/min. Fire rate of spread values are an approximation. Wood chips also produced the shortest average maximum ame height (note: aming combustion was rare). Although, wood mulch is ammable, take the time to evaluate the long term benets and decide if it is right for your application.Benets of mulch:1. Slows re1. Looks great2. Retains soil moisture by 80%3. Reduces soil temperature by 25%4. Reduces erosion5. Suppresses weed growthStudy conducted by University of Reno Nevada.FIRE: Mulch
Page 23
Page 24
WATER: Splashers It is the middle of summer. Heat wave of over 100° for the past 7 days...and the stall is ooded?! Thankfully, the rubber duckie was not harmed.I am not going to pretend to have the answer here. Case in point, our beloved resident, still experimenting, and lovingly called by his mother "Wreck it Ralph". Ralph has ooded his stall numerous times. Ralph is a big time splasher. With horses, splashing becomes an obsessive behavior, harmful to their hooves, their habitat, and a waste of water. Although, I don't have the answer, I do have some suggestions. With splashers, it is a trial and error process. And, mostly error. Here are a few things to try.• Elevated water trough (18-36")• Tall garbage can (secured)• Water bucket in a water bucket that is bolted to the wall with handles secured• Hot wire around the water• Obstacles in the water (think slow feeder)• No crib spray on rimsWe are currently using a bucket in a bucket system. So far, so good.
Page 25
Page 26
A positive mindset is a choice.
Page 27
A positive mindset is a choice.
Page 28
TRAINING: BudgetTraining is expensive and needs to be tracked in order to meet your goals.Download and print your own budget planner page HERE to track your expenses.
Page 29
TRAINING: PlanTraining is dynamic and needs to be tracked in order to measure success.Download and print your own daily planner page HERE to track your workouts and progress.
Page 30
Long-lining involves working the horse from the ground with two lines, or reins, attached to either side of the horse. While its use is diminished in modern horsemanship, advocates of classical equitation value the practice of long-lining greatly. This can be appreciated through the Spanish Riding School of Vienna, who has been training and breeding horses for over 450 years.Benets of Long-lining include:• Allows for the inuence of inside and outside rein contact. This has a therapeutic benet, as inuencing both sides equally develops symmetry.• Allows for the praising release of contact, providing an elastic connection.• Flexible – long-lining allows for various exercises and movements to be introduced and practiced, such as, piae, cavaletti, leg yield, straightness, etc.• Long-lining enables the contact to be inuenced by a person, without the presence of a rider on the horses back. This is benecial as it allows for an insight into how the horse moves and behaves without the weight of a rider. • The visual perspective of long-lining allows for the analysis of specic attributes of movement. For example, the amount of over-track, individual joint range of motion, pelvic movement and rotation, weaker rein, etc.• A simple and clear way to introduce lateral movements to your horse before asking for them under saddle.• Allows for easier engagement and thus development of top line muscles, such as longissimus dorsi.• A clear perspective to test ecacy of energy and voice communication aids.• Identify weaknesses that could be causing trouble under saddle.• A gentle, accurate rehabilitation method.TRAINING: Long Line
Page 31
Page 32
NUTRITION: AnalysisOne of the best ways to evaluate your horse's diet is to know what is in your hay. If you purchase at least two or more months' worth of hay at a time, it is worth having it analyzed. Here are some common terms you will see when hay and nutrition are analyzed:• Crude protein (CP) - an estimation of total protein based on the amount of nitrogen in the hay. Most grass hay contains 8 to 10% CP whereas legumes (e.g., alfalfa, clover, • perennial peanut) can range from 17-20%. Grain hays (oat, rye) generally have a lower CP than grass hay.• Acid detergent ber (ADF) and Neutral Detergent ber (NDF) - both measure bers (there are 5 types). However, there is one type of ber that is indigestible - lignin. The higher these two values, the more lignin the hay contains. The ideal ADF is less than 31%; ideal NDF is less than 50%. • Non-Structural Carbohydrates (NSC) - the total amount of sugar, starch, and fructan. To obtain %NSC, add together %WSC (water soluble carbohydrates) + %Starch. If your horse needs to have a low sugar/low starch diet, the %NSC should be <13% on a dry matter basis.• Water-soluble carbohydrates (WSC) - measures simple sugars and fructan levels. • Ethanol-soluble carbohydrates (ESC) - a subset of WSC and gives you a better idea of the simple sugar level. WSC minus ESC provides a fair measurement of fructan levels.• Starch - normally digested in the foregut down to individual glucose (blood sugar) molcules; therefore, it has a strong elevating eect on blood insulin levels.• ESC + Starch should be less than 11% on a dry matter basis for a horse with equine metabolic syndrome or PPID (Cushing's). Pink Rose Organix Equine Boost & Balance is a USDA Certied Organic feed for an optimized digestive system and healthy hind gut. A delicious, prescriptive blend of organic proteins, oils, and ber that works with your pasture or hay to boost digestive eciency and balance the diet. Boost & Balance focuses on hind gut function; driving animal health, attitude, and positive, cool energy!
Page 33
Page 34
Page 35
Page 36
TRAILER: Cool ItNot all trailers, RVs, or hook-us are created equal. Add in the California heat, an aluminum box, and you are in for a hot summer night. Here are some tips to keep cool and add some shade to your home away from home.1. Parking Orientation. Try to park under a tree. Or, with the door of your Living Quarters facing West. Why? It has the fewest windows and usually a retractable awning to add additional coverage.2. Window Coverings. Windows transfer the most heat. Block them with reective bubble insulation called Reectix and lower the nightshades.3. Ventilation. Bring in fresh cool air and pump out the warm air by closing o any win-dows that are on the warm, sunny side and open up the windows that are on the shady side. Then open any roof vents to let the warm air out. Once the sun goes down and the outside temps begin to cool, open up your storage bays and cupboards and try to vent the built-up heat.4. Shade. Umbrellas, EZ Ups, and tarps are easy to: store, put up for instant shade, and move around. 5. LED Bulbs. LED lamps do warm up a little bit, but regular bulbs are like running little heaters.6. Cook Outside. Best to try and keep all the cooking heat outdoors.7. Swamp Cooler. There are many battery operated, portable, dorm room style, mini swamp coolers on the internet.
Page 37
Page 38
Page 39
Page 40
Right before releasing the shutter, this little foal was using all his power to get his buddy up from a nap to play. Giving up wasn't in his plans as he poked him non-stop until getting what he wanted.And so he did.Thrilled with his success, he took o all excited and glued to his playmate with his head up high, almost as if proud of accomplishing his goal. Priceless moment...absolute joy!For more wild horse images visit www.MariaMarriott.com.WILD WEST: My Big Brother
Page 41
Page 42
The Market Bag works! Perfect for, well, the market, 100% water proof interior (perfect for ice), and holds a ton of stu. Use it whenever, and wherever you need to carry your items. Deceivingly large, it holds twice as much as you think. Dimensions: 13" wide, 18" high, 8" deep, 3.5" drop, with a 6" x 7" inside pocket. Leather straps with nickel rivets and 100% natural golden jute ber with water resistant lining that can hold over 100lbs.Exclusively at LavenderFields.co MARKET BAG
Page 43
Page 44
CALENDER 1 2 3Giant Steps Charity Classic4Giant Steps Charity Classic5Giant Steps Charity Classic6Giant Steps Charity Classic7Giant Steps Charity Classic8 9 10 11 12 13Working Equitation14Working Equitation15 16 17 18Wine Country Classic19Wine Country ClassicStarr Vaughn Dressage20Wine Country ClassicStarr Vaughn Dressage21Wine Country ClassicSonoma Summer Show22 23 24 25 26SAHJAStarr Vaughn Legis27SAHJAStarr Vaughn Legis28SAHJAStarr Vaughn Legis29 30 31
Page 45
1 2 3Giant Steps Charity Classic4Giant Steps Charity Classic5Giant Steps Charity Classic6Giant Steps Charity Classic7Giant Steps Charity Classic8 9 10 11 12 13Working Equitation14Working Equitation15 16 17 18Wine Country Classic19Wine Country ClassicStarr Vaughn Dressage20Wine Country ClassicStarr Vaughn Dressage21Wine Country ClassicSonoma Summer Show22 23 24 25 26SAHJAStarr Vaughn Legis27SAHJAStarr Vaughn Legis28SAHJAStarr Vaughn Legis29 30 31
Page 46
ARTIST: Cara Van Leuven Cara Van Leuven's lifelong obsession with horses is probably like yours — it's in the blood; it's an impossible attraction and addiction.
Page 47
Page 48
Page 49
Page 50
Page 51
Page 52
Page 53
Page 54
Page 55
Page 56
Page 57
Page 58
Page 59
Alexandrie Brut reects the culmination of the unique, rened vision of Chloe Bello, a synthesis of her appreciation for wine culture, discriminating palate and superior attention to detail, gained from years of experience working in the fashion industry. Named in honor of her daughter, Alexandrie Brut Sparkling Wine is lovingly produced in small batches at Chloe's boutique, female-owned winery in Napa Valley.
Page 60
HOME: LaundryNatural Savon de Marseille Soap FlakesOK, so these soap akes may look like grated cheese but they're actually a cleaning powerhouse for myriad household chores. They're fantastic at banishing dirt from your laundry and they're gentle enough for the most sensitve skin and fabrics. Fragrance-free and naturally hypoallergenic, these pure akes make your whites whiter and your laundry cleaner.With these soap akes, you can easily live out your zero-waste, plastic-free dreams. And they last ages so you can bypass the detergent aisle with these multi-purpose soap akes. Exclusively at LavenderFields.co
Page 61
Page 62
FOOD: Grilled Peach CrostiniINGREDIENTS:3 ounces pancetta, diced1/3 cup unsalted butter, softened3 tablespoons chopped fresh basil1 garlic clove, mincedpinch of salt1 large baguette, sliced into rounds3 peaches, cut in half, pits removed1 ball burrata cheesefresh basil, for garnishDIRECTIONS: 1. Preheat your grill to the highest setting.2. Heat a skillet over medium-low heat and add the diced pancetta. Cook, stirring often, until the pancetta is crisp and the fat has rendered. Remove the pancetta with a slotted spoon and place it on a paper towel to drain any excess grease.3. In a bowl, stir together the butter, fresh basil, garlic and salt until combined. Slice the ba-guette into rounds and spread the butter on one side (or both!! If you wish!). Place the slices on a baking sheet to easily take them out to the grill.4. Prepare the peaches for the grill! Slice them in half, remove the pits, spray them with olive oil and sprinkle on salt and pepper. Place them on a baking sheet too!5. Take everything out to the grill. Put the peach-es on rst, cut-side down, because they will need a few minutes – about 4 to 5 minutes. You can grill the uncut side for 1 to 2 minutes if you wish.6. While the peaches are on the grill, place the bread slices on the grill. They will only need 1 to 2 minutes on the grill, so you can start ipping them as soon as every slice gets on the grill!7. Transfer the grilled bread and peaches back to the baking sheet.8. Slice the peaches once they are cool enough to touch. To assemble the crostini, pull apart the burrata and place it on each slice of toast. Top with a grilled peach slice (or 2, there are no rules here!). Sprinkle on the pancetta. Garnish with fresh basil.9. Serve immediately.
Page 63
Page 64
INGREDIENTS:1½ parts Lillet Blanc¾ part Blanc vermouthor Dry vermouth1 dash Lavender bitters3 parts Tonic waterDRINK: Lavender BlancDIRECTIONS:Stir everything (except the tonic water) with ice. Strain into an ice-lled short glass and top with tonic water. Give it a stir and garnish with a sprig of lavender or a slice of lime.
Page 65
Page 66
Page 67
PUT YOUR BEST FACE FORWARD.It takes less than you think to have vibrant skin. Our streamlined system of essential skin-nourishing products deliver vibrant results without unwanted extras. W/O is designed by environmentally conscious individuals who put skin health rst. To put it simply, we're into saving face.Visit W/O online at skinwithout.com
Page 68
SHOPPING GUIDE:APRON: Lavender FieldsARTIST: Cara Van LeuvenBOOTS: KingsleyCHAMPAGNE: Alexandrie CellarsDRESSAGE LETTERS: Lavender Fields FEED: Pink Rose OrganixFENCING: Lavender FieldsGENERATOR: EcoFlowLAVENDER: Lavender FieldsMARKET BAG: Lavender FieldsUTILITY SOAP: Lavender FieldsSKINCARE: W/OSTEEL BUILDINGS: Lavender FieldsTRACTOR: Solectrac WILD WEST: Maria MarriottTo become a part of Lavender Fields, and our Shopping Guide, email: leslie@lavenderelds.co.
Page 69
Photo Credit: Maria Marriott
Page 70