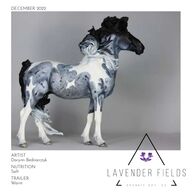 Return to flip book view
LAVENDER FIELDS DECEMBER 2022
Page 1
ARTIST Darynn BednarczykTRAILER WarmNUTRITIONSaltDECEMBER 2022
Page 2
The goal of Lavender Fields is to create a farm that works for the environment and the welfare of the creatures that inhabit it. By working with the land, climate, and animals, we are able to create an atmosphere that is comfortable, thriving, and supports long term ecological balance. Located in the Sierra Nevada region of California, the area is critical to the environment and economy of the state and provides essential natural resources including fresh water, clean power, working lands, and famous wilderness. By embracing the Northern California lifestyle, and working with nature, we are able to create our own space.JENNIFER AZEVEDOAA Equine ManagementBS Organizational Behavior with MN HorticulturePermaculture Designer
Page 3
Page 4
CONTENTSARTIST: Darynn BednarczykARENA: Lights BARN: PartyTEMPERATURE: CoolerTRAILER: WarmTRAINING: Walk
Page 5
FIRE: Electric NUTRITION: SaltWATER: Mash DRINK FOODHOOF: Boots
Page 6
INTRODUCINGMODULAR BARN SERIESBY:PRICING STARTS AT $1550
Page 7
DIY single steel modular pods to use as a single run in shed, or connect to make your own custom shedrow. Many options available.CONTACT USFOR DESIGN & PRICING DESIGN@LAVENDERFIELDS.CO
Page 8
Solectrac Electric Tractors are the clean, quiet, zero-emission alternative to diesel tractors. Our tractors can be charged by renewable energy, like wind and solar, and provide all the power of a comparable diesel tractor.
Page 9
Page 10
BUILDING: SteelDo you need a new building, barn, garage, shop? Lavender Fields is an authorized VersaTube dealer. VersaTube manufactures engineered DIY steel building kits. Contact us for ideas, a free design, and a quote for a new steel arena, barn, shelter, carport, garage...you name it, we can help. Email: design@lavenderelds.co
Page 11
Page 12
ARENA: LightsSolar power lights have come a long way and can be a more economical and practical solution. There is a growing range of high-quality solar lights available that can provide lighting to suit your individual requirements. This is not limited to horse arenas, but also to horse stables, and landscape.Typical Lighting Levels for Outdoor Arenas:• Show jumping practice and training = 150 lux• Show jumping competition = 300 lux• Dressage practice and training = 200 lux• Dressage competition = 200 lux• Private use = 70-100 luxThings to consider include:• Eye level of the rider and horse, especially if jumping• Number of poles, or mounts, in relation to the size of the arena• Number of lights on each pole• Illumination required• Solar panels need to be positioned to receive maximum charging sunlight• Neighbors • Light pollution
Page 13
Page 14
Modernize your arena with black powder-coated steel letters. Steel is a highlyrecyclable material that gets reused over and over again. Lavender Fields' outdoor Flat Black nish is a matte black powder-coat. This UV protective nish will shield the steel in the toughest conditions including outside in wet and salty environments. Powder-coat is a thick industrial coating that is VOC free and holds up for many years. The 12x12 inch artisan steel letters are mounted on 8" stakes that will stay put. Create the modern, weather resistant, and elegant court you have always wanted. Now available exclusively at LavenderFields.co. ARENA: Letters
Page 15
Page 16
BARN: PartyIt is that time of year...Happy Holidays! Are you planning of having a barn party? Here are some tips to make it easy, fun and memorable.• Be weather ready• Have a signature drink• Make food simple• Paper plates, aluminum solo cups, and biodegradable utensils• Have plenty of seating• Games, like chess, checkers, or horseshoes• Garbage cans
Page 17
Page 18
Page 19
Page 20
TEMPERATURE: CoolerA cooler is a wool or eece covering for your horse that allows heat to dissipate without making your horse cold. Both of these materials have wicking properties that remove the moisture from your horse's coat, allowing it to dry.If your horse is very sweaty and you have two coolers available, swap them out when you see moisture bead up on the one covering your horse. Moisture on the outside of the cooler means it is too damp to wick away any more sweat.Additionally, if you have an Irish knit sheet, it can be helpful to place this on the horse rst, under the cooler. The holes in the knit will create a layer of warm air to help dry their coat, while the cooler will wick away and absorb the moisture.There are a few additional ways you can dry your horse as rapidly as possible. 1. Thatching. Place ued up hay or straw under the cooler and directly against his skin. The hay or straw will capture the horse's naturally dissipating heat and create warmth to dry the damp hair more quickly.2. Toweling. Rub o the sweaty areas in vigorous circles will also help, as will using a cloth dampened with rubbing alcohol. 3. Baby powder or corn starch will also absorb sweat without the drying eect that rub-bing alcohol can sometimes have.Once your horse's coat is dry, you can safely turn him out or put him back in his stall. It's especially important that he be dry if you'll be putting on a turnout blanket, as these will trap moisture, keeping his coat wet and potentially causing discomfort.
Page 21
Page 22
Page 23
Page 24
Electric currents carried by wiring, switches, plugs and appliances generate heat. Exces-sive or uncontrolled heat can start res. To help prevent electrical res, know how to use and store plugs and electrical cords and take these precautions: • Don't run cords under hay, bedding, or other combustible materials; also avoid placing cords across doorways or frequently traveled areas• Discard frayed or broken cords and never splice two cords together.• Don't overload outlets or use extension cords in place of outlets. Call an electrician to install additional outlets as necessary.• Ensure plugs t snugly in outlets to prevent shock and excess heat.To prevent an electrical re, learn to recognize the warning signs that indicate a possible wiring or electrical problem. Contact a licensed electrician immediately to examine and repair electrical problems if you experience any of the following issues:• Flickering or dimming lights• Switches or outlets that are hot to touch and/or emit an acrid odor• Discolored cords, outlets and switch plates• Repeatedly blown fuses and tripped circuit breakersUnderstanding the common causes, warning signs and appropriate safety measures can help prevent an electrical re. The most common causes for electrical res are:• Incorrectly installed wiring• Overloaded circuits and extension cords• Defective or improper plugs, switches and outlets• Misuse and poor maintenance of lightingFinally, consider a licensed electrician to inspect (especially structures prior to 1973) and make all repairs to ensure wiring is safe and to code.FIRE: Electricity
Page 25
Page 26
WATER: MashA great way to help your horse stay hydrated in the winter is a warm mash. The simplest recipe? Add warm water to their normal feed until it makes a soup. Want other ideas? Here you go:Recipe Option 1:• 1 scoop of hay pellets of choice• 3 cups softened beet pulp• 2 cups senior grain• 2+ gallons warm waterRecipe Option 2:• 4 cups of rolled oats• 1/2 cup of seaweed akes• 1/2 cup of alfalfa powder• 2 tsp of Sea Salt• 3 TBSP of virgin coconut oil • 2+ gallons of warm water
Page 27
Page 28
Page 29
Page 30
TRAINING: BudgetTraining is expensive and needs to be tracked in order to meet your goals.Download and print your own budget planner page HERE to track your expenses.
Page 31
TRAINING: PlanTraining is dynamic and needs to be tracked in order to measure success.Download and print your own daily planner page HERE to track your workouts and progress.
Page 32
TRAINING: WalkIf the horse is sti, lacks straightness, or is hollow, the best pace in which to train him out of these habits is the walk.If you use the walk with cavaletti, the horse's body has more time to adjust to a new way of going without interference from the larger muscles that work during paces with more impul-sion.In the walk, you can teach the horse's body to respond to new motor and sensory nerves, release areas that are restricted and tight, and increase the range of joint mobility in his joints.As your horse develops more exion in the hock joints and stie, his exor and quadriceps muscles will engage more, leading to an improved balance between the bottom and topline muscle chains, a more supple back, and longer, more elastic strides.
Page 33
Exercise 1:Take up a light contact and walk your horse through two cavaletti spaced about two feet seven inches apart.Add more cavaletti so that you have three and then four.As you negotiate the cavaletti, allow your horse to stretch down the rein.Exercise 2:Place 4 poles into a square.Keep riding through the center of the square, turn-ing either left or right, to ride a complete four-leaf-clover pattern.Exercise 3:Lay several poles in a line and ride a tight serpen-tine over the poles.
Page 34
HOOF: BootsThe Renegade Hoof Boot® is a highly-developed horse boot for the barefoot performance horse, designed to be easy to apply and easy to remove, yet stay secure even through the most rugged conditions and grueling tasks. The innovative pivoting heel captivator design accommodates and supports the bio-mechanics of the hoof and leg structure, allowing for natural exion of both the hoof and the pastern.The horse boot is comprised of a high-tech polymer compound that is extremely durable and designed to provide grip and traction on a variety of surfaces. It is designed to t a hoof trimmed in a natural barefoot style, featuring a short toe, low heels, and mustang roll on the wall. The Renegade Hoof Boot® is ideal for high-performance equine sports. They are ex-tremely popular with endurance riders and trail riders, and are also being used with success in eventing, dressage, and show jumping.There are two strap-style models, the Classic and the Viper®; additionally, there is the Pro-Comp® Glue-On also oered. Renegade Hoof Boots® are proudly made in the USA.Fara trains in the Renegade Vipers, as pictured. Photo credit Maria Marriott.
Page 35
Page 36
NUTRITION: SaltAccess to salt, specically a quality mineral salt lick or loose salt, is absolutely essential for horses. Hay and pasture grasses contain little salt, so providing a free-choice salt lick or loose salt helps sodium levels stay balanced and stimulates a horse to keep drinking. Without salt supplementation, some horses won't consume enough water on their own, and risk becoming dehydrated—which may lead to impaction or other life-threatening problems.Salt is the most crucial mineral horses require—and most will self-regulate and consume enough to meet their needs without overindulging. Salt is also water-soluble, so a horse nat-urally balances salt intake by drinking water to ush out any excess. Active horses require 2-4 tbsp. of salt per day. Here are some tips to ensure your horse is getting enough:• Granulated salt free choice• Mined sea salt free choice• A salt rock or lick• Add up to 1 tbsp of salt of choice to supplements or grains at meal time(s)COMING SOON! PRO Series by Pink Rose Organix is a nutrient dense and buildable feed system that utilizes only the best USDA-organic and scientically proven ingredients to pro-vide your horse with optimal nutrition. PhD formulated, PRO Series ensures your horse is getting the best balance of necessary ingredients for joint protection and immunity, skin and hoof integrity, growth and muscle development, ber digestion and energy metabolism.
Page 37
Page 38
Page 39
Page 40
Page 41
Page 42
TRAILER: WarmStaying warm and comfortable in the winter while traveling is a game changer. There is nothing more cozy than a warm place to heat your bones after a cold day outside with the horses. Here are some tips to keep your trailer warm:• Insulate oors, windows and doors• Install RV skirting• Prepare pipes and tanks• Use solar panels• Use blinds, curtains, and carpets• Sleep with hot water bottles• Use a portable heater• Wear warm clothing in layers like wool and down• Wipe down any condensation• Make your bed in this order: cotton sheets, wool blanket, down comforter, wool blanket to seal in heat
Page 43
Page 44
Page 45
Page 46
This is Pale Rider, from the Onaqui range in Utah. This Cremello stallion was rounded up last August along with another 300+ Onaqui horses. Fortunately, Pale Rider was one of the 100+ lucky ones to return to the range about a month later and now roams free again. Some things are too beautiful to put into words - the raw beauty of this Cremello stallion, rugged and dirty, yet perfect; his blowing mane, a display of freedom in the place he be-longs; his stunning and alert eye, a trait survivors of the wild share. A picture is denitely worth a thousand words...For more wild horse images visit www.MariaMarriott.com.Best,WILD WEST: Pale Rider
Page 47
Page 48
The Market Bag works! Perfect for, well, the market, 100% water proof interior (perfect for ice), and holds a ton of stu. Use it whenever, and wherever you need to carry your items. Deceivingly large, it holds twice as much as you think. Dimensions: 13" wide, 18" high, 8" deep, 3.5" drop, with a 6" x 7" inside pocket. Leather straps with nickel rivets and 100% natural golden jute ber with water resistant lining that can hold over 100lbs.Exclusively at LavenderFields.co MARKET BAG
Page 49
Page 50
CALENDAR 1 2 3Cavaletti Clinic4Cavaletti Clinic5 6 7 8 9 Murieta Christmas ClassicSHP Holiday Spectacular10Murieta Christmas ClassicSHP Holiday SpectacularCavaletti Clinic11Murieta Christmas ClassicSHP Holiday SpectacularCavaletti Clinic12 13 14 15 16 1718 19 20 21 22 23 2425Merry Christmas26 27 28 29 30 31New Year's Eve
Page 51
CALENDAR 1 2 3Cavaletti Clinic4Cavaletti Clinic5 6 7 8 9 Murieta Christmas ClassicSHP Holiday Spectacular10Murieta Christmas ClassicSHP Holiday SpectacularCavaletti Clinic11Murieta Christmas ClassicSHP Holiday SpectacularCavaletti Clinic12 13 14 15 16 1718 19 20 21 22 23 2425Merry Christmas26 27 28 29 30 31New Year's Eve
Page 52
ARTIST: Darynn BednarczykAs a child I lived the rural lifestyle, raising & caring for many dierent kinds of animals. These animals were my closest friends, companions and muse for my creative mind.The equine was specically fascinating to me. I was born with a love for these creatures, and I would observe them, admire them, adore them, and attempt to capture their beauty within my artwork
Page 53
Page 54
Page 55
Page 56
Page 57
Page 58
Page 59
Page 60
Page 61
Page 62
Page 63
Alexandrie Brut reects the culmination of the unique, rened vision of Chloe Bello, a synthesis of her appreciation for wine culture, discriminating palate and superior attention to detail, gained from years of experience working in the fashion industry. Named in honor of her daughter, Alexandrie Brut Sparkling Wine is lovingly produced in small batches at Chloe's boutique, female-owned winery in Napa Valley.
Page 64
HOME: Mini Lavender BouquetThese dried mini lavender bouquets are so cute and smell so heavenly.The size makes them endearing and able to be placed anywhere. Approximately 20 stems of lavender and 8 inches long. They are sure to make you smile.Exclusively at LavenderFields.co
Page 65
Page 66
FOOD: Fried Manchego with Lavender HoneyINGREDIENTS:• 1 cup lavender honey• 1 tablespoon dried lavender• 8 ounces (½ lb) manchego cheese• 1 cup all purpose our• 1 egg, beaten with 1 teaspoon water• 1 ½ cups panko bread crumbs (more as needed)• Vegetable oil• SaltDIRECTIONS: 1. Cut cheese into cubes. Dredge in our, then dip in the egg, then coat with panko. Repeat. 2. Heat about 1 inch of vegetable oil in a saucepan with high sides to around 375-400 degrees.3. Drop a few breaded cheese cubes in the hot oil, being sure not to overcrowd the pan, and move them around, turning once if needed, until browned and crisp on all sides. Remove with a slotted spoon or strainer on to paper towels to drain, and sprinkle with a little bit of salt while still hot. Repeat.4. Arrange on a platter and drizzle with the lavender honey.
Page 67
Page 68
INGREDIENTS:½ lemon (or Meyer Lemon), juiced2 tablespoons lavender simple syrup2 ounces bourbonIce, for cocktail shakerOptional Garnish: lemon sliceDRINK: Lavender Bourbon SourDIRECTIONS:Chill an old-fashioned cocktail glass or a small martini glass. Add lemon juice, syrup, and bourbon to a cocktail shaker with ice, and shake. Strain cocktail out of strainer into the glass. Serve with a lemon slice (optional).
Page 69
Page 70
HOME: ApronOne of the best hacks there is...an apron.Introducing Lavender Fields' custom barn and yard apron. An apron keeps hay out of unexpected places, water away, and your clothes clean. It holds tools, cell phones, and hoof picks alike. Perfect for braiding, feeding, soaking, mucking, or just about any dirty chore. Made of water resistant 100% cotton canvas and genuine leather. A cross back design for optimal t and comfort.Exclusively at LavenderFields.co
Page 71
Page 72
Page 73
PUT YOUR BEST FACE FORWARD.It takes less than you think to have vibrant skin. Our streamlined system of essential skin-nourishing products deliver vibrant results without unwanted extras. W/O is designed by environmentally conscious individuals who put skin health rst. To put it simply, we're into saving face.Visit W/O online at skinwithout.com
Page 74
SHOPPING GUIDE:APRON: Lavender FieldsARTIST: Darynn BednarcyzkBOOTS: KingsleyCHAMPAGNE: Alexandrie CellarsDRESSAGE LETTERS: Lavender Fields FEED: Pink Rose OrganixFENCING: Lavender FieldsGENERATOR: EcoFlowHOOF BOOTS: Renegade Hoof BootsLAVENDER: Lavender FieldsMARKET BAG: Lavender FieldsUTILITY SOAP: Lavender FieldsSKINCARE: W/OSTEEL BUILDINGS: Lavender FieldsTRACTOR: Solectrac WILD WEST: Maria MarriottTo become a part of Lavender Fields, and our Shopping Guide, email: advertise@lavenderelds.co.
Page 75
Photo Credit: Maria Marriott
Page 76